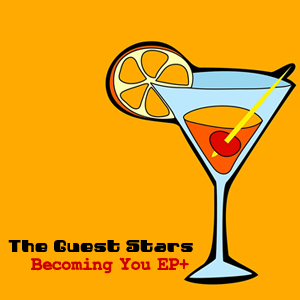 Copyright: 2002
Genre: rock
Sub-genre: electro-prog-pop
Format: MP3 album only
Edition: re-issue
Added to B-catalog: February 2009
Performers: Trish Scearce (lead vocals, keyboards) Sean Kelly (backing vocals, guitars, bass) unknown (drums)
Details: The Guest Stars were a short lived Seattle, WA band during 2002-2003. Originally a demo created by Trish Scearce and Sean Kelly (former guitar player for Poe). Musicians were added after recording to help play the material live and round out the band.
Originally The Becoming You EP was self released by the group and used homemade products to fill short supplies on sites such as CD Baby. The EP featured 5 tracks and different running order. We have added a sixth song from the sessions, gave it a soft master and returned the EP to an earlier song running order which is why we're calling it Becoming You EP Plus
Track Listing
1 Schizoid Man
2 The Moth
3 In and Out of Demand
4 The Gas
5 Then I Stop
6 Maui Cape