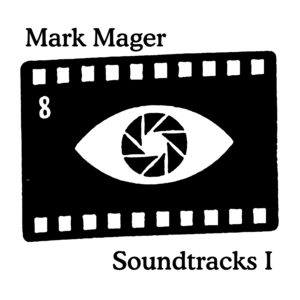 Copyright: 1996, 1997, 2001
Genre: soundtrack
Sub-genre: electronic ambient movie kitsch
Format: MP3 album only
Edition: re-issue
Added to B-catalog: March 2009
Performers: all sounds/instruments by Mark Mager. Ryan McPhaill (drums on 3 investigators)
Details: This collection of Mark Mager's early soundtrack work covers the music created for Ronald Bronstein's Downward Spiral of Information Acquisition, Wes Terray's 4 minute animation Popsicle Girl and a proposed main theme for Terray's full length feature The Unmarked Garage.
Tracks 1-14
In 1996, NYU film student Ronald Bronstein (Frownland, winner of the 2007 SXSW Special Jury Award) wrote, directed and shot his senior thesis Downward Spiral of Information Acquisition. The film, which clocked in at almost 30 minutes was a gloom piece on suits, corporate offices and a little bit of homemade espionage. Mark Mager, with a ring modulator, bowing a bass guitar like a cello and the occasional spooky keyboard sound created the corporate soundtrack to fit this brooding film.
Track 15
In 1997 Mark Mager wrote and recorded one continual piece of music to accompany Popsicle Girl, the senior thesis by NYU film student and animator Wes Terray. The average student animation project was 30 seconds long. Wes Terray's clocked in at 4 minutes using traditional hand painted animation. The music was all created on a Godin Synth guitar.
Track 16
Wes Terray's first feature length live action film The Unmarked Garage (aka The Three Investigators in the Case of The Unmarked Garage) started post-production around 2001. At this time, Mark Mager was presented with a rough edit and asked if he had any musical ideas for a possible score. The result was a demo for a spy theme called Three Investigators which utilized surf guitar, rhodes, organ and heavy metal lead.
Production notes:Tracks 1-15 have been transferred to digital from the original multi track tape sessions where they have been cleaned of tape hiss, noise artifacts and properly remixed. All tracks given the gentle mastering touch.
Track Listing
1 Corporate Daydream
2 Welcome to the Firm
3 Take a Bite out of Life
4 Asleep at the Helm
5 Waste Basket
6 Tablet Discovery
7 Montage
8 What's with the Plant?
9 Office Rut
10 Bored into Action
11 Chase Scene
12 Aftermath
13 Bleary Eyed
14 End
15 Popsicle Girl
16 Three Investigators (demo)