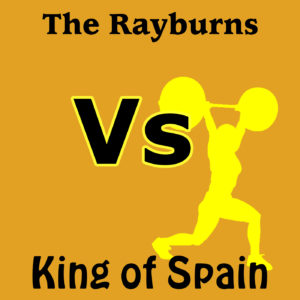 Copyright: 1996, 2001
Genre: rock
Sub-genre: alternative
Format: MP3 album only
Edition: re-issue
Added to B-catalog: April 2009
Performers: Rayburn Edwards (guitars), Ben Kihnel (vocals, guitar), Tim Snyder (drums), Sean Bartley (bass, vocals)
Details: In 1994, an alternative rock band formed in Jacksonville, FL called The Rayburns and comprised of Rayburn Edwards, Ben Khinel, Tim Snyder and Sean Bartley. The group recorded an EP worth of songs in 1996, simply titled The Rayburns.
Prior to recording their first full length Floating on the Bottom, the group renamed themselves King of Spain. In between the recording of Floating on the Bottom and their follow up, called Normalized, the band recorded the stop-gap EP The Universal Look-out Rock.
B-Catalog is proud to offer in one package, the original Rayburns EP as well the The Universal Look-out Rock. Both out of print for several years.
Track Listing
The Rayburns
1 Joneser
2 Forrest Punk
3 Getting Rid of Ron
4 Thieves
The Universal Look-Out Rock
1 Walk Into The Light
2 Frontiers of the Wasteland
3 Ticket
4 Deer in the Headlights